Women's Studies Association (NZ)/Pae Akoranga Wāhine
News
New Book from Rosemary Seymour Award Winner
No Country for Old Maids?
Talking About the 'Man Drought'
Hannah August
In 2013, there were over 66,000 more women between the ages of 25-49 living in New Zealand than there were men. This so-called 'man drought' is a hot topic for journalists and academics alike, who comment on how the situation might affect New Zealand women's chances of finding love. Yet they rarely stop to ask more than a handful of women whether they're actually bothered by this lack of men.
In this BWB Text, Hannah August does just that, integrating interview material, statistics and cultural commentary in order to demonstrate why we need to talk differently about the 'man drought'.
Author information
Hannah August is a writer, editor and researcher based in Wellington. She has written for publications such as the Times Literary Supplement and Metro. She has a PhD from King's College London and has been a Commonwealth Scholar, a Fellow of the New Zealand Federation of Graduate Women, and was last year's recipient of CLNZ/NZSA Stout Centre Research Grant.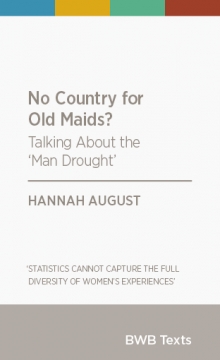 Available from all bookstores and as an e-book from Bridget Williams Books
News of Members
Congratulations to Laura Ashton of the Auckland Organising Group, who graduated from Unitec in April with a Master of Social Practice. Her thesis was awarded an outstanding grade, A+, and was titled: "I don't necessarily go out there and tell everyone that I'm a feminist, but I won't go out there and tell everyone that I'm a musician either": Dis/identifications and Dis/articulations: Young Women and Feminism in Aotearoa/New Zealand. Her supervisors were Dr Helen Gremillion (Unitec) and Dr Nicola Gavey (University of Auckland). You can access the full text of the thesis online at Unitec's Research Bank (google Laura Ashton + Unitec + feminism).
Voicing the Visible: feminist art from the University of Auckland collection
To celebrate the move of the Women's Studies Association to Auckland and the re-design of its website, 18 students from the postgraduate Art History programme in Art Writing and Curatorial Practice curated an exhibition of feminist art from the University's collection.
On May 9th more than 100 people attended the launch of a feminist art exhibition at the Gus Fisher Gallery and on May 24th an attentive audience enjoyed a panel discussion on feminist art practices in New Zealand in the 21st century.
Linda Tyler, the Gallery Director, facilitated the opening event, which began with a fiery feminist speech from Elizabeth Eastmond, a feminist art scholar and owner of Waiheke Island's Tivoli Gallery.
Hilary Lapsley spoke on behalf of WSA and there were also speeches on the two accompanying exhibitions.
The curatorial students who prepared the exhibition and catalogue were present, as were some of the feminist artists.
The panel discussion included Laura Suzuki (curatorial student), Elizabeth Eastmond and Pamela Gerrish Nunn (feminist art scholars), and Anna Miles (gallery owner).
More on the launch in our next newsletter.
Make sure our history and culture doesn't disappear!
WSA(NZ) supports the Bridget Williams Books digitisation project, which aims to raise $50,000 to assist in turning books on women published by BWB and Allen & Unwin over the period 1984-2014 into e-books.
Go to www.bwbpublishingtrust.org.nz to find out more about the books being digitised and how to donate.
Please give generously to ensure that New Zealand's feminist scholarship is preserved and made accessible to new generations and a wider readership.